Tinahely  village is situated close by the South-Western tip of the Wicklow Way and is a fabulous walking centre in its own right.
The Wicklow Way  begins in Dublin's southern suburb of Rathfarnham and travels in south-westerly direction to finish in the small, County Carlow village of Clonegal 127 kilometres later.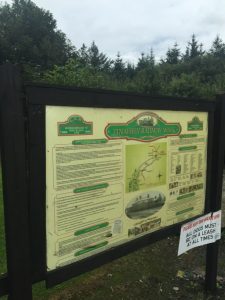 Tinahely is very close to Clonegal and there are a number of terrific walks centered around Tinahely village – all within easy access of our Farm Shop.
We serve great food – all day – in our Restaurant and are the perfect place for Walkers to drop by for a relaxing bite to eat and sample the Wicklow ambiance over a cup or two of fresh tea served in real china cups.
Tinahely's local walks include the Tinahely Loop, a challenging walk spanning 25kms, Mangan's Loop, Ballycumber Loop and Kyle Loop & the outstanding Tomnafinnoge Woods. This beautiful ancient woodland is the last surviving fragment of the great Oak Woods of Shillelagh, County Wicklow, which once adorned the hills and valleys of south Wicklow. Today Tomnafinnoge Woods is owned and protected by the Irish State. The River Derry flows through the woods and this is one of the best places in Ireland to see the great spotted woodpecker, which has recently recolonised the country.
There is also a Tinahely Railway Walk, and extension, along the route of the old railway which can accommodate children's buggies.
We look forward to seeing you and hope you will thoroughly enjoy your stay in the heart of Wicklow's walks.
You can download printable PDF maps of Tinahely's local walks from the links below:-
There is a video here about the creation of the Tinahely Railway Walk on YouTube. Also you can read more about Tomnafinnoge Woods here.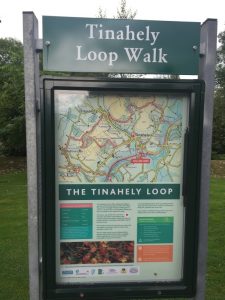 Please note: – Dogs are not permitted on any of the local looped walks (above), in accordance with the wishes of the local landowners who have generously permitted access for walkers. However, dogs are allowed on a leash on the Railway Walk and its extension.