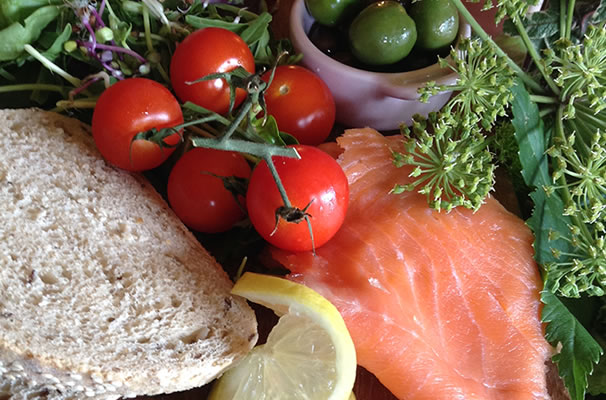 Here at Tinahely Farm our menu changes often as we like to use what is in season and fresh. We have a very simple but delicious menu. We are known for our Tinahely Farm rolls & soup. – which is made fresh every day, using only the finest ingredients.
Some days we have a luxurious fish board consisting of smoked trout pate, flaked trout and brown bread with fresh local leaves.
We make our brown bread every morning and use it in the Restaurant and it is also  available for sale in the Shop. The flour we use is from the mill in Co.Wexford and it really is the best. Fresh scones and the most amazing gluten free Coffee cake, that was once made by Rebecca's grandmother, is a big hit with everyone and is always on the menu.
During the week you can get a breakfast of poached eggs & brown bread but at the weekends we do an amazing breakfast – Buttlers organic eggs, Dover sausages, Bacon, Tomatoes, the lot! For vegetarians we offer mushrooms, eggs, beans, tomatoes, and much more.
Our menu, due to the Covid 19 restrictions, is a little different at the moment:-

Current Menu at The Farm Shop.
Tinahely Farm Roll. (Coolattin cheddar, Drover ham, Chutney Mayonnaise and fresh local leaves)
Soup of the day with fresh Brown Bread.
Pizzas –  Meat feast, Vegetarian, Cheese feast.
Today's Specials – usually a choice of
·    Ham and Cheese bowl
·    Cheese Board
·    Fish bowl.
All available for Take Away
Last, but certainly not least, BEWARE – we have the most mouthwatering display of fresh cakes, bread and scones to take home with you!!!